Pan African Tech Foundation is driven by a group of passionate people who go above and beyond to see Africa thrive.
Through their effort the organisation keeps moving forward​
The Leadership Team is responsible for business strategy and planning and oversees all the activities of the Foundation.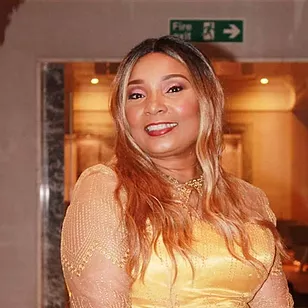 Leadership Team
Elaine is a barrister of England and Wales with over 20 years' experience in capital markets and investment funds gained from global investment banks, hedge funds and other financial institutions. Elaine is a determined and resilient entrepreneur with a keen focus on socio-economic development in Africa. Over the years she has developed various models for sustainable economic development including a blockchain-based real
estate asset tokenization model for diaspora investment in Africa. Elaine has engaged a number of central banks in Africa in discussions on Central Bank Digital Currency (CBDC). Elaine is passionate about decentralised identity and is focused on exploring the best Self-Sovereign Identity (SSI) and Legal Entity Identity (LEI) solutions for Africa. She is relentless in maintaining an environment built on integrity, quality, operational excellence, and uncompromising ethics. Elaine has executive education is from London Business School and Oxford University. She is a member of the board of the Comprehensive and Interactive Platform of the African Academy of Languages (ACALAN), a specialized organization
of the African Union. She is also a member of the International Advisory Council of African Women in Business (previously SADC-WIB) outside of the SADC region to drive economic development through the Africa Continental Free Trade Area, and a member of the Skills Development Working Group of the South African BRICS Business Council. Elaine is the Co-Founder of Gonana, a Blockchain-based project that aims to create a fully transparent, cross-chain and scalable marketplace utilising innovative technology to give farmers better access to financial services and Defi solutions which will help improve their businesses and living conditions.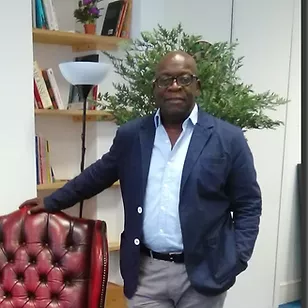 Leadership Team
Tetteh "Tet" Kofi has a career background in market analysis, print and broadcast Journalism and is co-founder of the online PR firm JournoLink. He has presented Network Africa on the BBC World service along with other programmes in BBC Radio, and independent Radio Networks in the UK, and was publisher of the Ethnic Media Group with 4 titles in Britain including the market Leading New Nation Newspaper.  He is currently involved in the establishment of the African Renaissance network, an agency that seeks to redefine the African way of being and re-imagine its future.  He is Executive Consultant to Yanga TV, voted the favourite African Diaspora TV channel in the UK. As a PR consultant Tetteh has advised and trained senior executives and officials of The UK Cabinet Office, The British Army, L'Oréal Worldwide, Société Générale, British Aerospace, The EC Social Services Directorate, Logica and BP.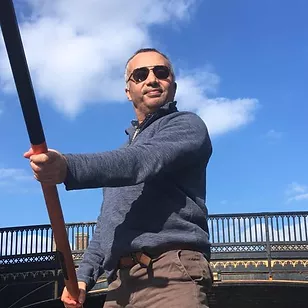 Strategy and Reputation Management
Leadership Team
Baron is an experienced communications and strategy professional. He worked as a project manager on international development projects in the former Soviet Union, south Asia and sub-Saharan Africa. He was head of research at the leading global directory of commercial lawyers, research editor of a quarterly industry magazine and is a long-standing consultant to global commercial law firms on communications strategy . He was a founder of a wearable technology digital health start up and is currently a senior policy adviser at The Brain Tumour Charity. His voluntary roles include being the founder of independent broadcasting start-up The Hub, a presenter on Epsom Hospital Radio and previously being chair of trustees of London-focused education charity ELATT.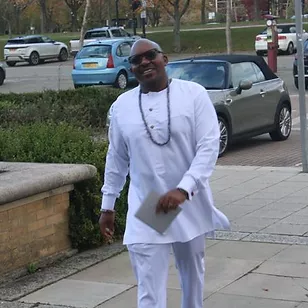 Leadership Team
Melvyn has over 20 years experience in digital learning working with a wide variety of subject matter experts and he is focused on keeping Africa driving forward with emerging technologies and the need to support the education, legal & regulatory and technological sectors. Outside digital learning, Melvyn is also a director for DWIB Leukemia Trust and a member of the National Black, Asian and Minority Ethnic (BAME) Transplant Alliance (NBTA), which is the coordinating voice for BAME transplant donation. He has a staunch interest in cars, motorsports, athletics, boxing, football and nature. Melvyn believes you cannot move forward by looking in your rear-view mirror.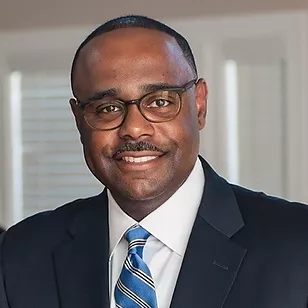 Strategic Development, Partnerships and Fundraising
Leadership Team
Cazzie is a Sourcing Executive in consulting leading external global clients. Mr. Williams has extensive experience in sourcing and leading supply chain projects for a broad range of global industries, including but not limited to consumer goods, industrial, aerospace, medical, and military. Mr. Williams is a dynamic, results-oriented leader with a diverse background in global sourcing, project management, engineering, operations, and international business development within various global industries. He has proven experience managing on-site and remote global teams delivering sourcing savings and operational efficiencies. In addition, as a global transformation leader, he has transformed organizational structures, re-engineered roles, and developed and mentored staff to improve and standardize processes. Mr. Williams received his Bachelor of Science Degree in Electrical Engineering from Western Michigan University and an MBA in Organizational Leadership from the University of Michigan. His passion and expertise have afforded him to serve on various universities and private sector advisory boards.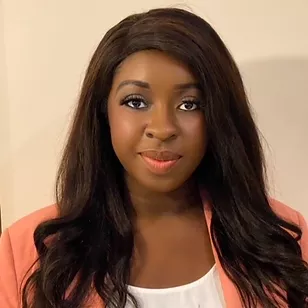 Leadership Team
Vanessa Abankwah is the founder and designer of the luxury African-inspired Fashion and Home Interior brand Vanessa Akos Ltd. It's more than just brand it's a movement as it seeks to educate others on the vibrant African cultural history and also economically empower the women around Africa. She is also the Founder of To Thrive, an organization that hosts a series of personal development events to motivate and educate those from marginalized societies to become their best selves. Vanessa recently started The Black Wall Street UK, to raise fundsto assist black-owned small businesses and grassroots projects in the UK. She has utilized graduating at the top of her class in Law and in her MSc International Development to build a career as a Project Management Consultant for INGOs and NGOs for UN-funded projects in Human Rights, Edtech, Economic Development, Gender Equality, and Global Value Chain. On top of all her accolades, she sits on the board for a few charitable organizations and she continues to champion Africa's empowerment via economic and technological developments.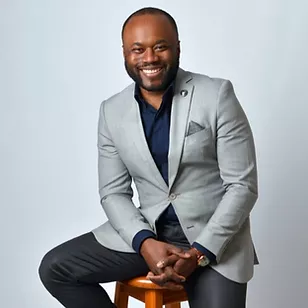 Leadership Team
John Lombela is a serial entrepreneur who is passionate about Blockchain technology and cryptocurrencies, and is currently focused on building Africa's largest digital investment bank with an emphasis on democratising access to the world's best investment opportunities. John is an expert on the topics of entrepreneurship, leadership, alternative investments and has engaged with other great entrepreneurs around the world to advance his agenda of Entrepreneurship in the great continent of Africa. He currently is focused on raising capital to manage a fund targeted to reach USD 100 Million and deploy the capital to service the needs of various industry sectors such as the healthcare system in the DRC, the Entrepreneurial Sector in South Africa and the DRC and other countries in Africa; as well as has the philanthropic goal of mentoring, creating and investing in 100 entrepreneurs over the next 5 years in countries such as South Africa, DRC, Nigeria, Kenya, just to name a few.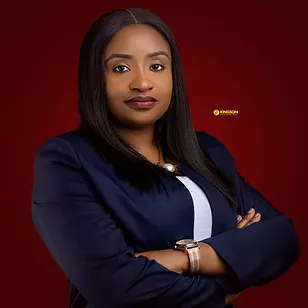 Leadership Team
Modupe Ativie is a certified learning & development consultant, and trainer, with over 14 years' cross sector experience, in facilitation, content creation and management and has spent most of her career in the education and knowledge space. She is the Lead Consultant at Eudora & Aegle Consulting, a Continuous Professional development and Learning & Development organization. As a trainer and educator, she was certified in 2016 by Highfield Awarding Body for Compliance with an International award in Delivering training, in 2012 by Philanthropy University for Girl Centered Design, and in 2020 by Havard Graduate School of Education as a Leader of Learning. To be able to perform Quality Assurance audits in schools and educational systems, she was also certified in 2019 by CQI/IRCA as an ISO 9001: 2015 QMS Lead Auditor. She is the African Lead for the Global Blockchain Women Alliance, also a certified trainer and training consultant. She sits on the board of the Global Womanity Initiative and is a member of the African Business Integrity Network. She is passionate about educating Africans especially women in technology especially Blockchain.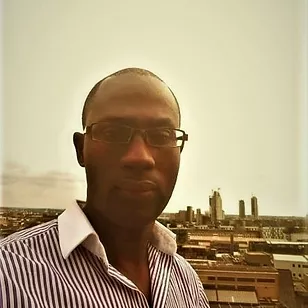 Talent Acquisition Coordinator 
Leadership Team
Derrick is an experienced IT professional with over 20 years of experience in all sectors of IT(Information Technology) He worked all over the EMEA (Europe Middle East and Africa) as a consultant with some of the biggest companies in the world. Derrick specialises in Operating systems infrastructure, cloud, and data protection. Derrick is currently director of an IT consultancy company in the UK and Ghana working as a
contractor and also providing IT resourcing for companies when required. Derrick is a registered UK school governor and assists with challenging students in the Bedfordshire Schools. His voluntary roles also include working with students/graduates who require work experience within the IT
sector engaging them within his companies to provide project support for CITA (IT Help for Charities)
and other businesses.
Africa Talent Acquisition
Leadership Team
Minkaila is a recruitment expert with 10 years working experience in student recruitment services. He worked with The West African Examinations Council (Ghana) as a Private Candidates recruitment officer where he recruited many candidates for various WAEC educational resources. In 2012, Minkaila realized the challenges faced by Ghanaian youth in accessing digital services in a period where educational and other economic sectors were experiencing a major digital transition, This inspired him to develop a network of digital and educational support services providers which have enabled over 20,000 Ghanaian youth gained admissions into Tertiary institutions and accessed various educational facilities. He was also awarded The Head of State Awards (2007) and The International Award for Young People founded by HRH The Duke of Edinburgh KG KT for his distinguished contribution to Social Development through voluntarism in Ghana, He is passionate about Tech education and currently plays the role of In-country Recruitment for PATF.
INTERESTED IN PARTNERING WITH US?
PATF facilitates regional engagement, access to and interaction with international organisations,
the private sector, civil society and the general public.​